The Future of Nordisk Panorama
The Nordic Council of Ministers has announced that they will cut all funding for Nordisk Panorama from 2022. With a cut of roughly 200.000 EUR Nordisk Panorama stand to lose not only the most important meeting point for Nordic directors, producers and their audiences, but also an influx of funding that ultimately produced a gain for the cultural ministries and brought in foreign capital to our societies. Nordic cultural exchange is crucial and will be increasingly important as international platforms continue to move audiences from national broadcasters. We will do our outmost to fight this cut. Together we can hopefully find new ways forward for the festival.
We have created a Facebook group to encourage dialogue and engagement for the future of Nordisk Panorama. In the group we will ongoingly share news regarding the cut and its effects to help form an opinion.
You are welcome to join the Facebook-group here.
And please help us invite friends and colleagues to the group – to give us strength in numbers.
Press announcement May 18: Nordic Council of Ministers Terminates Crucial Support for Nordic Film Collaborations
These articles have already been published: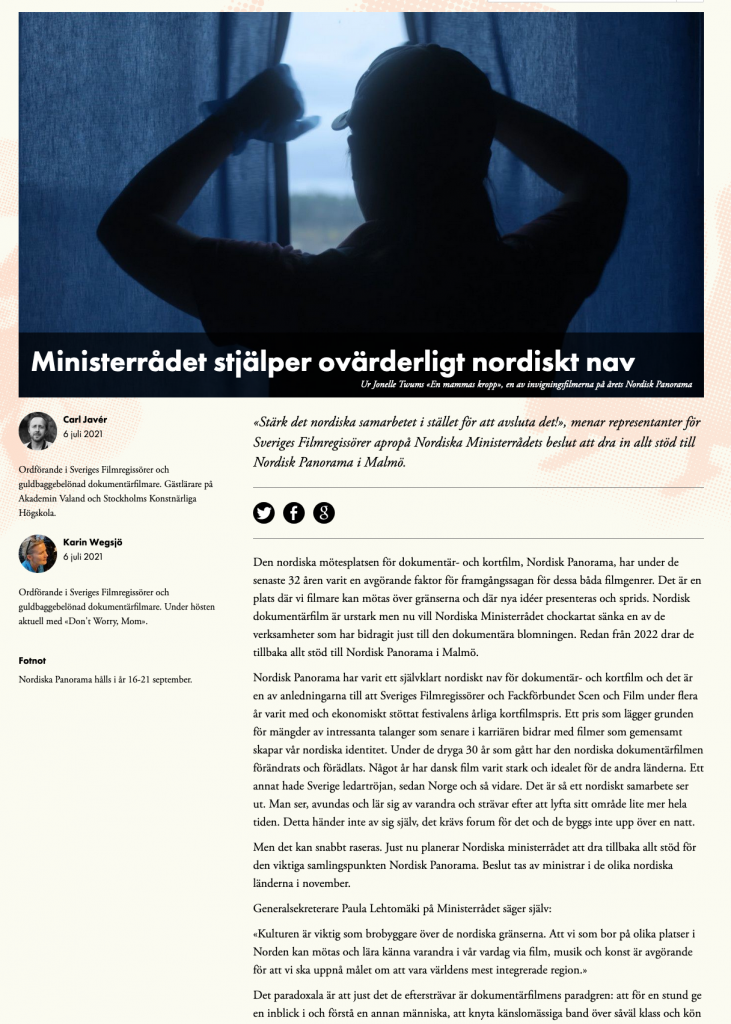 Point of View, 6 July:
https://www.povfilm.se/80/ministerradet/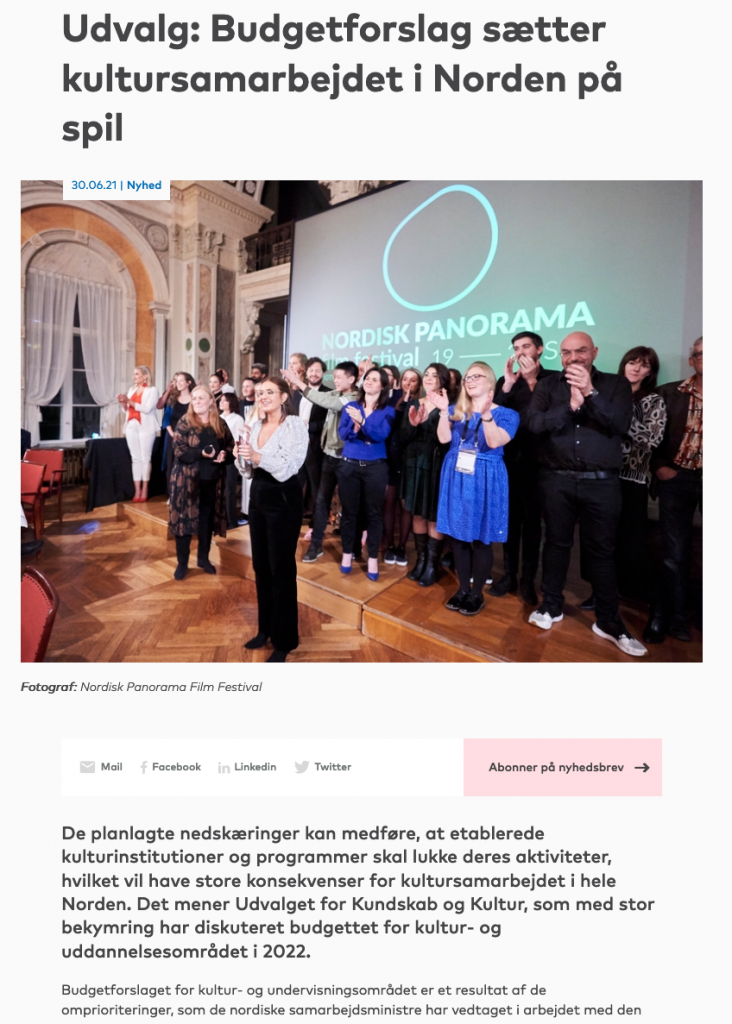 Nordic Council of Ministers, 30 June:
https://www.norden.org/en/news/committee-budget-proposal-threat-nordic-cultural-co-operation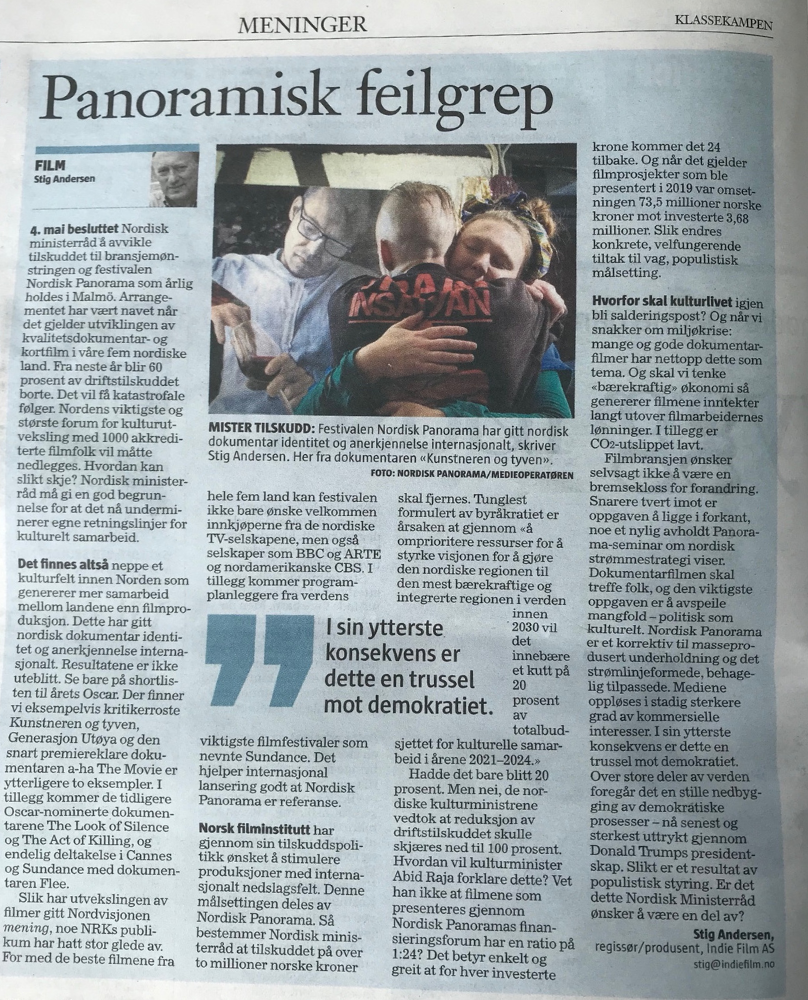 Klassekamp, 11 June:
https://klassekampen.no/utgave/2021-06-11/debatt-panoramisk-feilgrep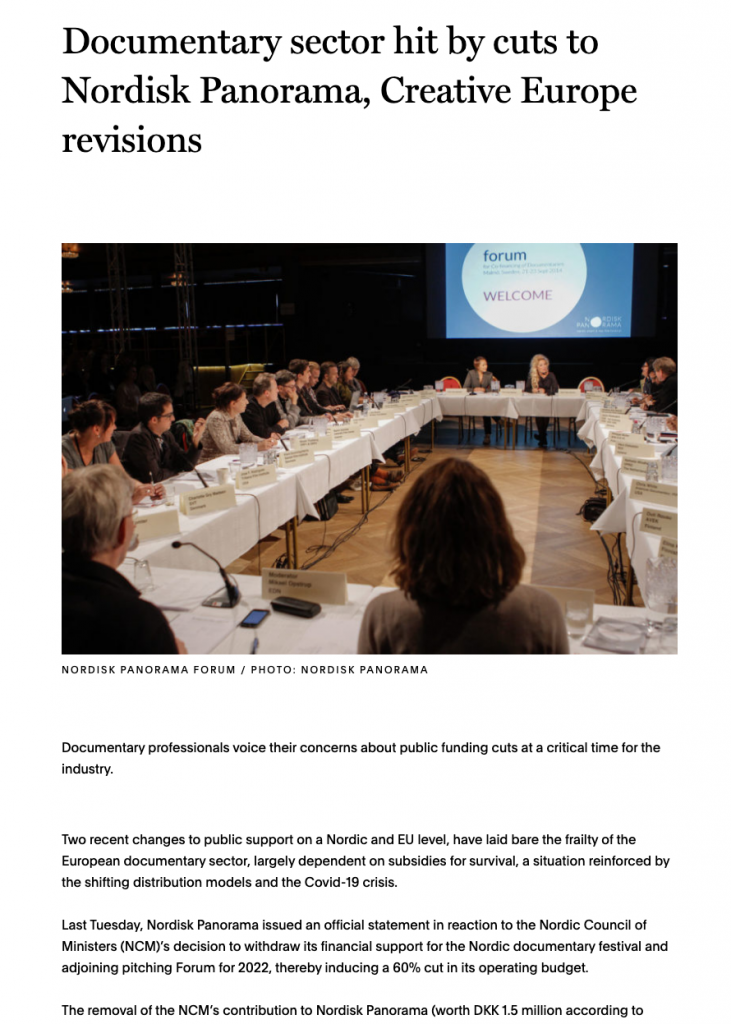 Nordisk Film & TV Fond, 25 May 2021:
https://www.nordiskfilmogtvfond.com/news/stories/documentary-sector-hit-by-cuts-to-nordisk-panorama-creative-europe-revisions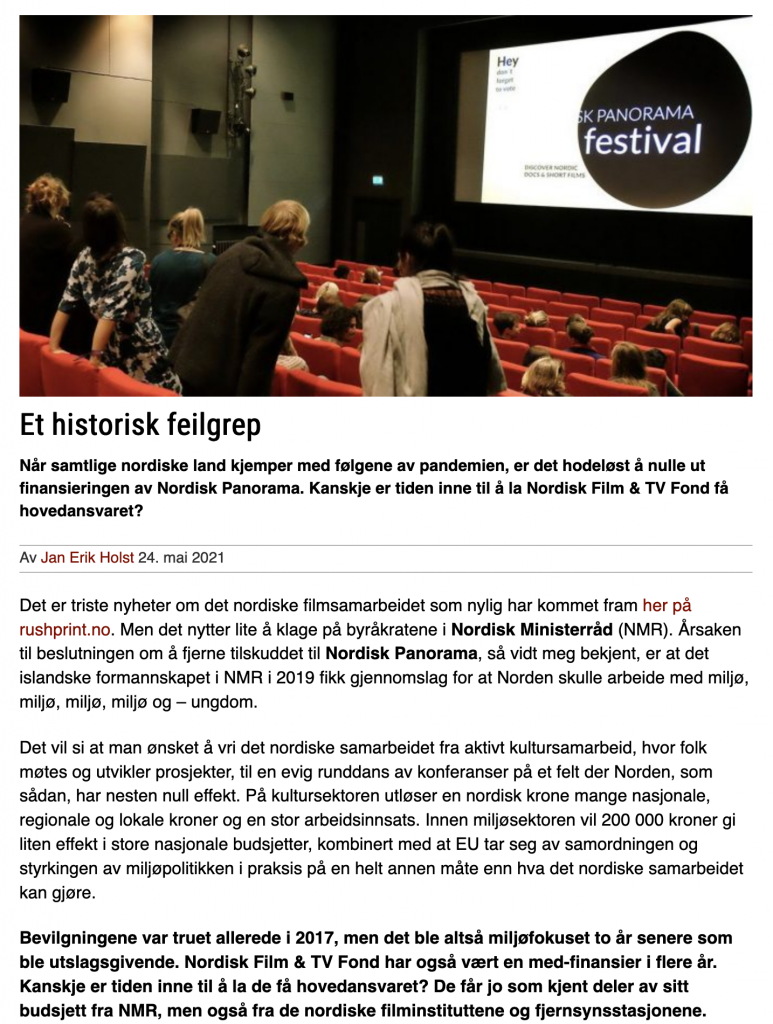 Rushprint, 24 May 2021:
https://rushprint.no/2021/05/et-historisk-feilgrep/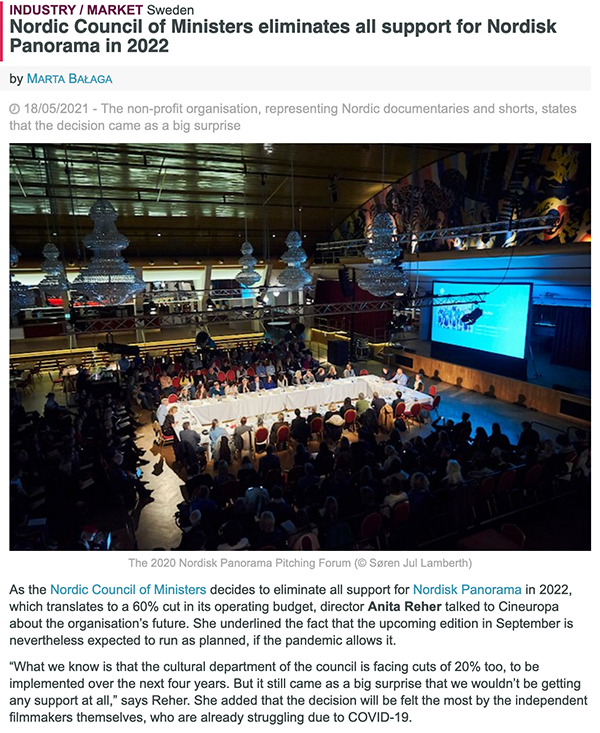 Cineuropa, 18 May 2021:
https://cineuropa.org/en/newsdetail/404863/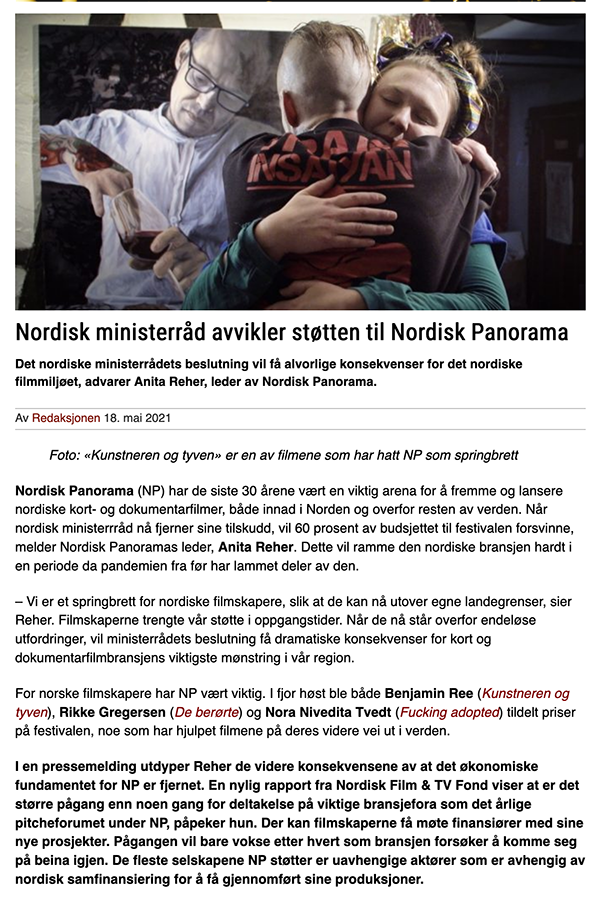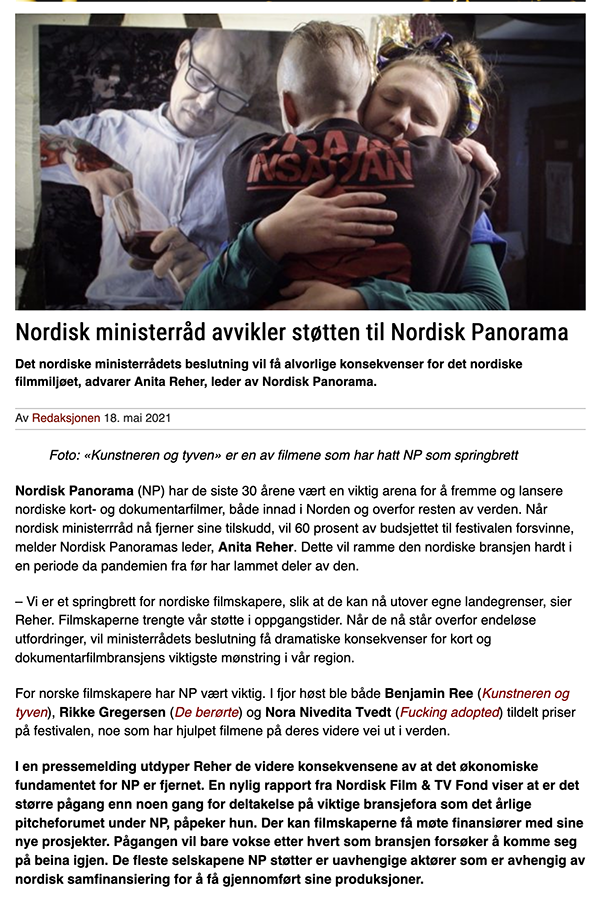 Rushprint, 18 May 2021:
https://rushprint.no/2021/05/nordisk-ministerrad-avvikler-stotten-til-nordisk-panorama/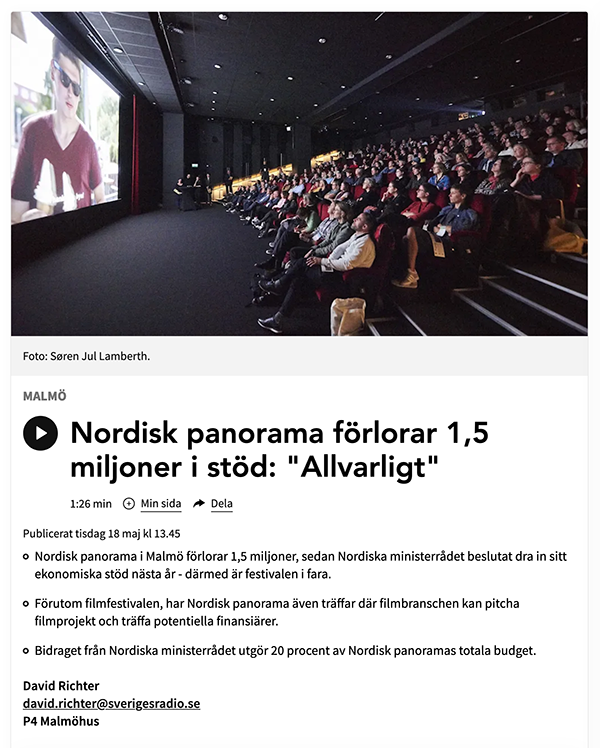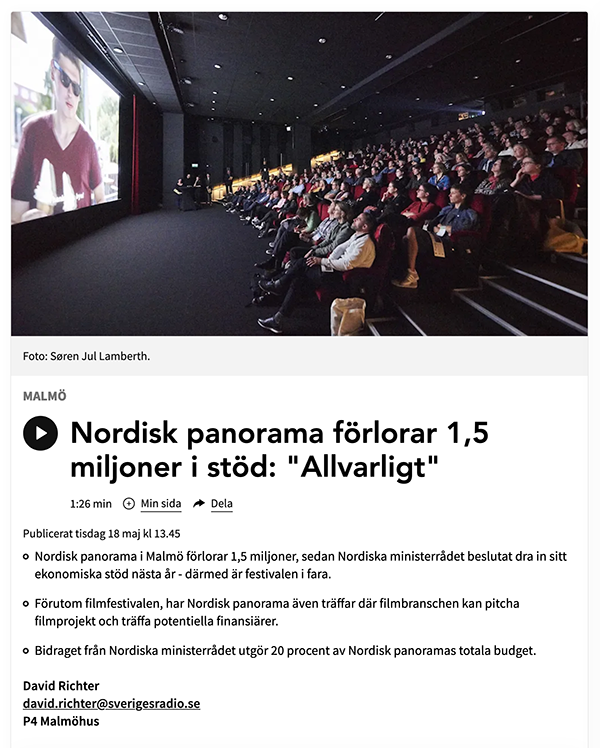 Sveriges Radio, 18 May 2021:
https://sverigesradio.se/artikel/nordisk-panorama-forlorar-1-5-miljoner-i-stod-allvarligt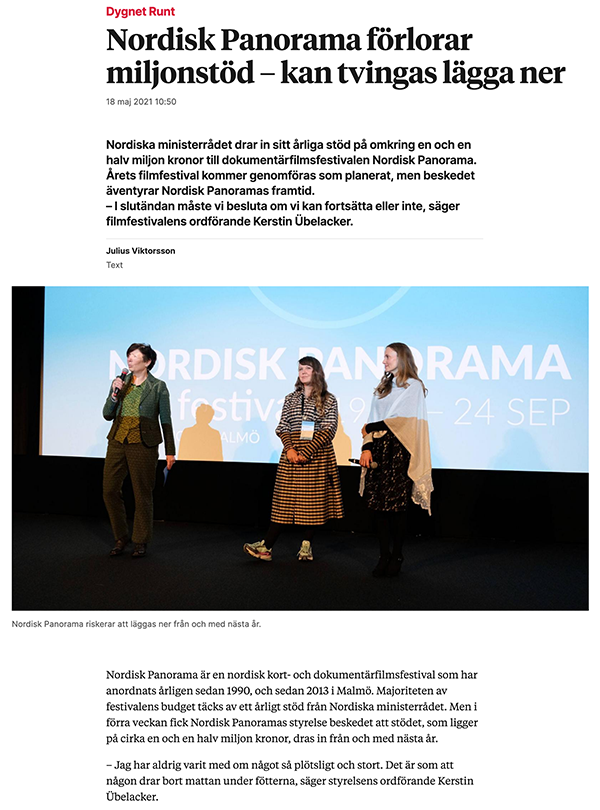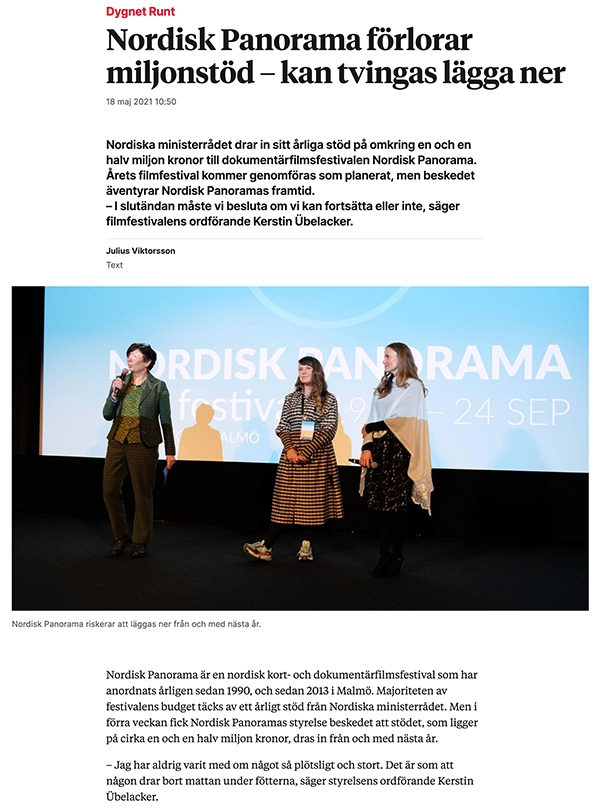 Sydsvenska Dagbladet, 18 May 2021:
https://www.sydsvenskan.se/2021-05-18/nordisk-panorama-forlorar-miljonstod–kan-tvingas-lagga-ner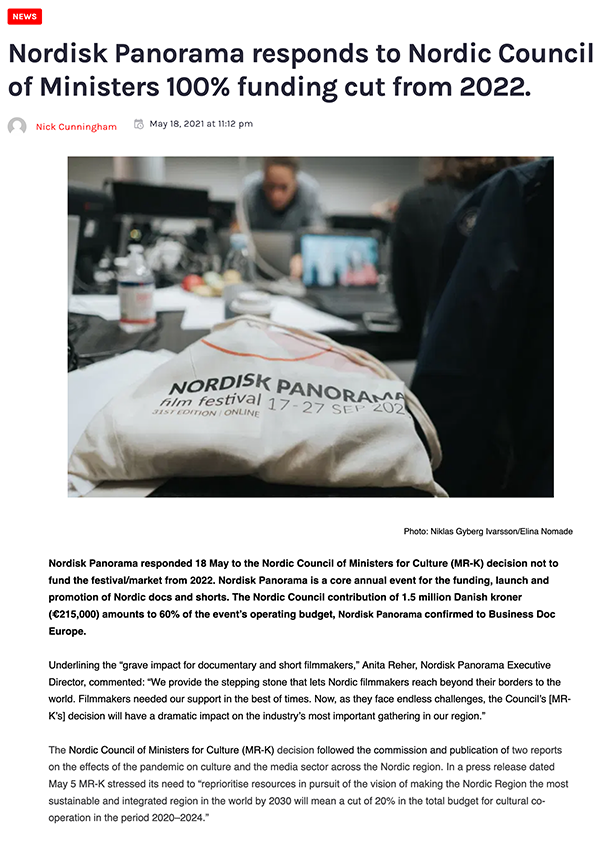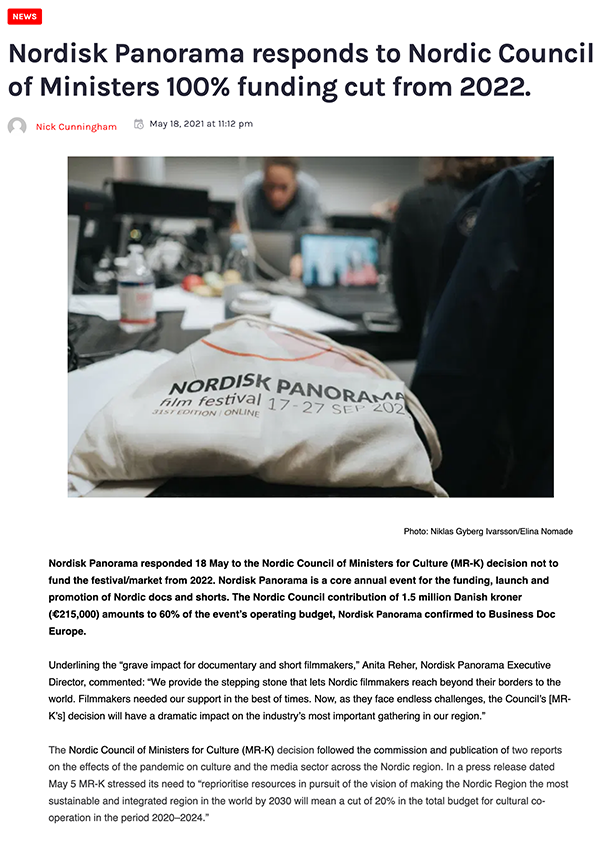 Business Doc Europe, 18 May 2021:
https://businessdoceurope.com/nordisk-panorama-responds-to-nordic-council-of-ministers-for-culture-funding-cut-from-2022/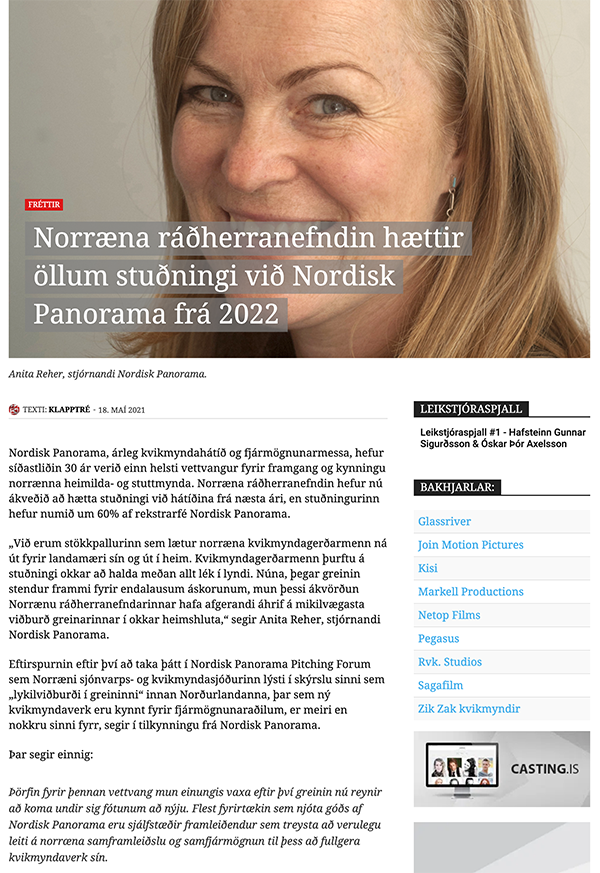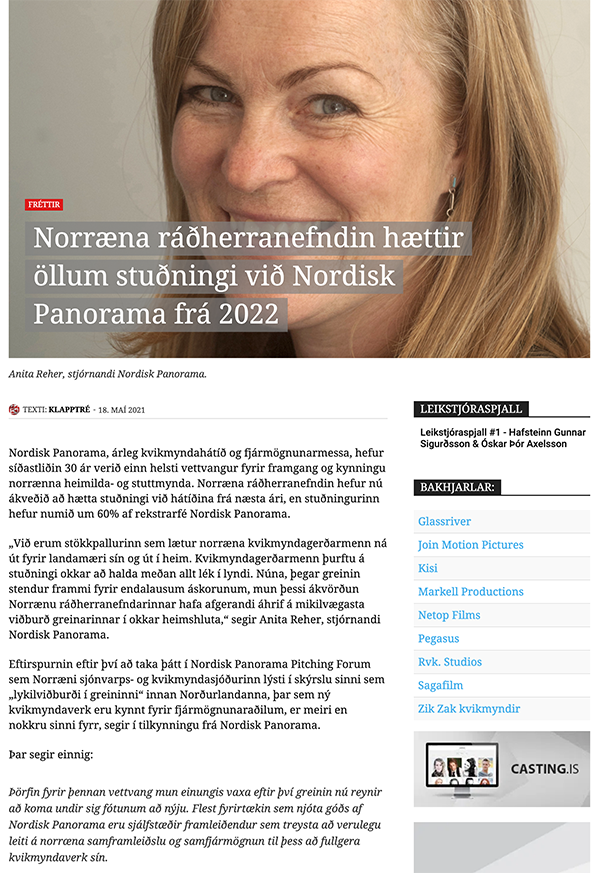 Klapp Tré, 18 May 2021:
https://klapptre.is/2021/05/18/norraena-radherranefndin-haettir-ollum-studningi-vid-nordisk-panorama-fra-2022/