Opportunities and Compromises – the Creative Doc on TV
On 13 April, 2021 Nordisk Panorama presented an online seminar focused on the collaboration between TV and director/producer teams in the making of a creative doc with a clear artistic vision.
The seminar was centred around two cases – Meanwhile on Earth by Carl Olsson and Love Bound by Vibe Mogensen – and delved into questions like: what is the initial process – how do you get a creative doc on TV, what are the opportunities vs the challenges, how do you communicate and "sell" your artistic vision, and how does the future look for creative, artistic docs on TV?
Joining the discussion were Carl Olsson, director Meanwhile on Earth, Caroline Drab, producer Meanwhile on Earth, Anne Köhncke, producer Meanwhile on Earth and Vibeke Vogel, producer Love Bound.
The discussion was moderated by Cecilia Lidin.
The seminar took place online 13 April.
MEANWHILE ON EARTH
When we die, there are still some practicalities that need to be taken care of before our time among the living is finally over. In Meanwhile on Earth we enter the world around our end station, an industry of death. It is a place where the existential meets the mundane, the sacred meets the profane.
Director: Carl Olsson
Produced by: De Andra Film
Producers: Caroline Drab, Anne Köhncke
In co-production with Final Cut for Real, Allfilm, SVT  & Film i Skåne
More information and trailer here.
LOVE BOUND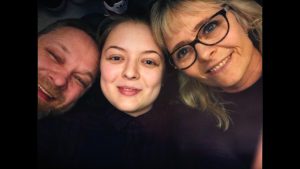 Love Bound uncovers the unconditional love, which governs the relationship most parents have to their children and that must somehow be altered, when a child is suffering from mental illness. The film is shot behind closed doors, inside the confidentiality of the therapy room. Over a period of months a group of parents share their joys and sorrows and come to realise that they are all in the same boat riding the same chaotic storm.
Director: Vibe Mogensen
Produced by: Bullitt Film
Producer: Vibeke Vogel
With support from FilmFyn, TV2 and DFI
More information and trailer here.