Venues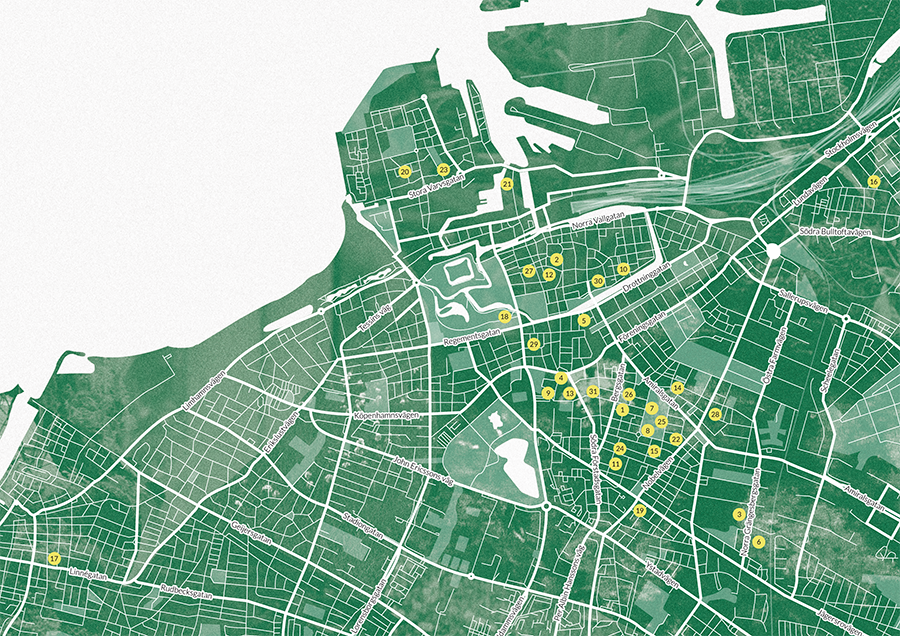 Venues in Malmö
1. Cinema Panora, Friisgatan 19D
2. Cinema Spegeln, Stortorget 29
3. Hypnos Theatre, Norra Grängesbergsgatan 15
4. Scandic Triangeln, Triangeln 2
5. Scandic Malmö City, Kaptensgatan 1
6. Plan B, Norra Grängesbergsgatan 26
7. Moriskan, Folkets Park, Norra Parkgatan 2
8. Ridhuset, Folkets Park, Norra Parkgatan 2
9. Malmö Konsthall, S:t Johannesgatan 7
10. Moderna Museet Courtyard, Ola Billgrens plats 2
10. Moderna Museet, Ola Billgrens plats 2
11. Mitt Möllan, Claesgatan 8
12. Form/Design Center, Lilla torg 9
13. Triangeln Mall, Södra Förstadsgatan 41
14. ABF Malmö, Spånehusvägen 47
15 Café Jesusbaren, Falsterbogatan 27B
16. Kirseberg Library, Kronetorpsgatan 1
17. Limhamn Library, Odengatan 43
18. Malmö City Library, Kung Oscars väg 11
19. Malmö Ideella – Nobel 21, Nobelvägen 21
20. Masten 2 Library, Mastgränd 4
21. MINC, Anckargripsgatan 3
22. Mr. Falafel, Nobelvägen 34
23. STPLN, Stapelbäddsgatan 3
24. Tehran Livs, Ystadsgatan 9A
25. Far i Hatten, Folkets Park, Norra Parkgatan 2
26. Grand Malmö, Monbijougatan 17
27. Julie, Tegelgårdsgatan 9
28. Rex Pizzeria, Nobelvägen 107
29. Riket, Erik Dahlbergsgatan 5
30. Liket, Stora Nygatan 36
31. BID Malmö, Friisgatan 14
Venues outside Malmö
Gylleboverket, Östra Vemmerlöv 19, Tornavägen, 272 97 Gärsnäs
Cinema Scala, Kyrkogatan 21, 269 33 Båstad
Watering Holes
A film festival isn't only about the films, it's also about gatherings. We have asked some favourite spots to choose some Nordic flavours for you to try.
Spegeln Bio
Alcazar Spritz – If you're feeling especially fruity, enjoy this Nordic riff on the classic Spritz in between
Scandic Triangeln
Berry Mojito – The flavours you know and love, presented in a new, Nordic light. We'll take two, please.
Far i Hatten
Thyme 47 – Head down to Folkets Park for a light and refreshing gin cocktail celebrating a Swedish staple.
Grand Öl & Mat
Honey Buckthorn – This sweet number awaits you just a stone's throw away from one of our festival cinemas, Panora.
Julie
Swedish Wine – Round off a full day of thought-provoking cinema with a delicious Swedish wine tasting experience.
Rex Pizzeria
"Stor Stark" – Look no further than homely Rex for a tall, ice-cold glass of "Stor Stark" beer. Skål!
Riket
Tuborg – When in doubt, quench your thirst with Denmark's very own lager.
Liket
Easy Ernie – Enjoy Liket's experimental take on the Nordic akvavit in their outdoor seating area.